Horace and the Cov Uni plaque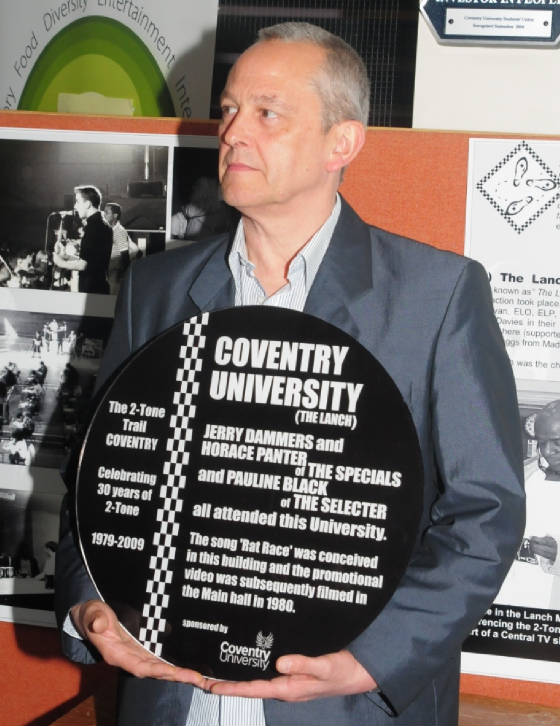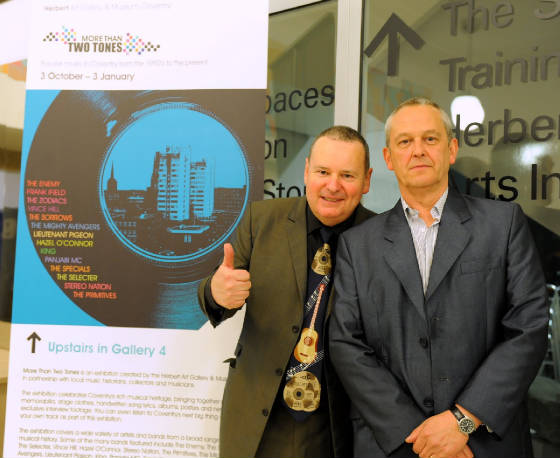 Photo by John Coles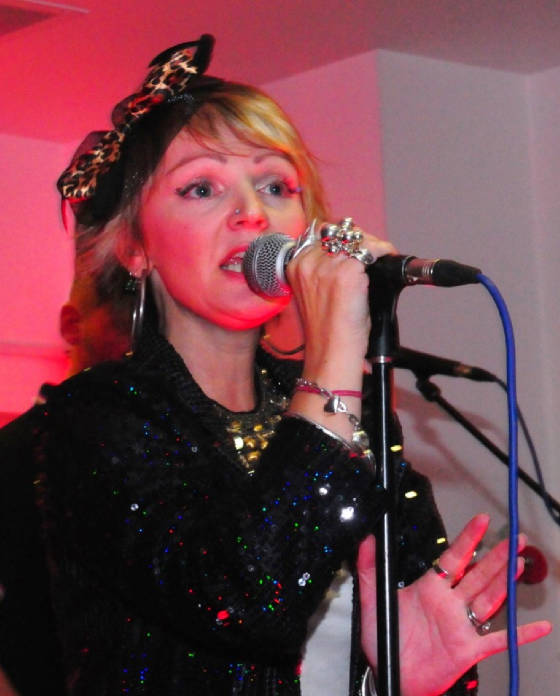 Tracy of the Primitives, making an historic apperance
The eighth 2-Tone@30 plaque was unveiled at 6.00pm on October 2nd by Specials legend Horace Panter at Coventry University (or as Horace remembers it 'The Lanch').

It was here Horace gained his art degree when the University was known as The Lanchester Polytechnic, or simply 'The Lanch.' Horace first met a certain Jerry Dammers here, a meeting that would lead to the Specials becoming a band. The hit song "Rat Race" was conceived at the Lanch by Roddy Byers and the promotion video for the track was filmed in the main Hall. Before he unveiled the plaque, MC Pete Chambers, asked Horace about his time at Coventry University, and his first meeting with 2 Tone creator Jerry Dammers. "I came to the Lanch in 1972 said Horace, "Because I heard they put on good groups, and I saw bands like Thin Lizzie, Duster Bennett and even Captain Beefheart. I first met Jerry in the Art Faculty on the fifth floor, he was sat by a wall of paintings looking really miserable because he had just joined, I was a second year, so I went over to him trying to be friendly, I said, tell me about these paintings, he looked at me and said there not my paintings". Despite that they formed a band together and the rest as they say is history!

Coventry University is number one on the 2-Tone trail, and its importance in Coventry musical history is immense, and some of this fascinating history is on display at the University. So it's pertinent that this plaque preceded the More than Two Tones Coventry Music Exhibition that followed.

This major Herbert exhibition attracted record launch day crowds, and after the opening speeches by Herbert Chief Executive Ludo Keston and Coventry Music Historian Pete Chambers, groups of visitors were taken off fifty at a time, to view Coventry's latest exhibition. They were treated to wall to wall Coventry musical history, be it Frank Ifield, Vince Hill, The Specials, The Mighty Avengers, Panjabi MC or The Enemy. It's all here, from the seminal days of the 1950's pop scene, right up to bands not only making it today, but the possible next in-line. It's a fascinating collection, and the man who's idea it was to have this exhibition Pete Chambers, said "A lot of people have worked long and hard on this" "It's absolutely wonderful, and anyone who doubts Coventry's role in popular music, should take a look, and see just what we have contributed to the world, like the title says, it's more than two tones". The night finished with a superb set from Kristy Gallacher followed by a very special reunion gig from 80's indie darlings The Primitives, who blew the large crowd away with favourites like "Way Behind Me", "Stop Killing Me" and of course the global hit "Crash". After the gig lead singer of the Primitives Tracy Cattell had this to say."Despite being a bit nervous, we all enjoyed it and it went great, it's not like The Primitives are reforming, we are just going to do a few dates, have fun and see what happens".

The exhibition in Gallery 4, is free and on till 3rd of January, look out for various related events.
Covsupport's video of the event
Coventry City Mad's plaque report
Ali Bushnell's blog of events and the video of my speech